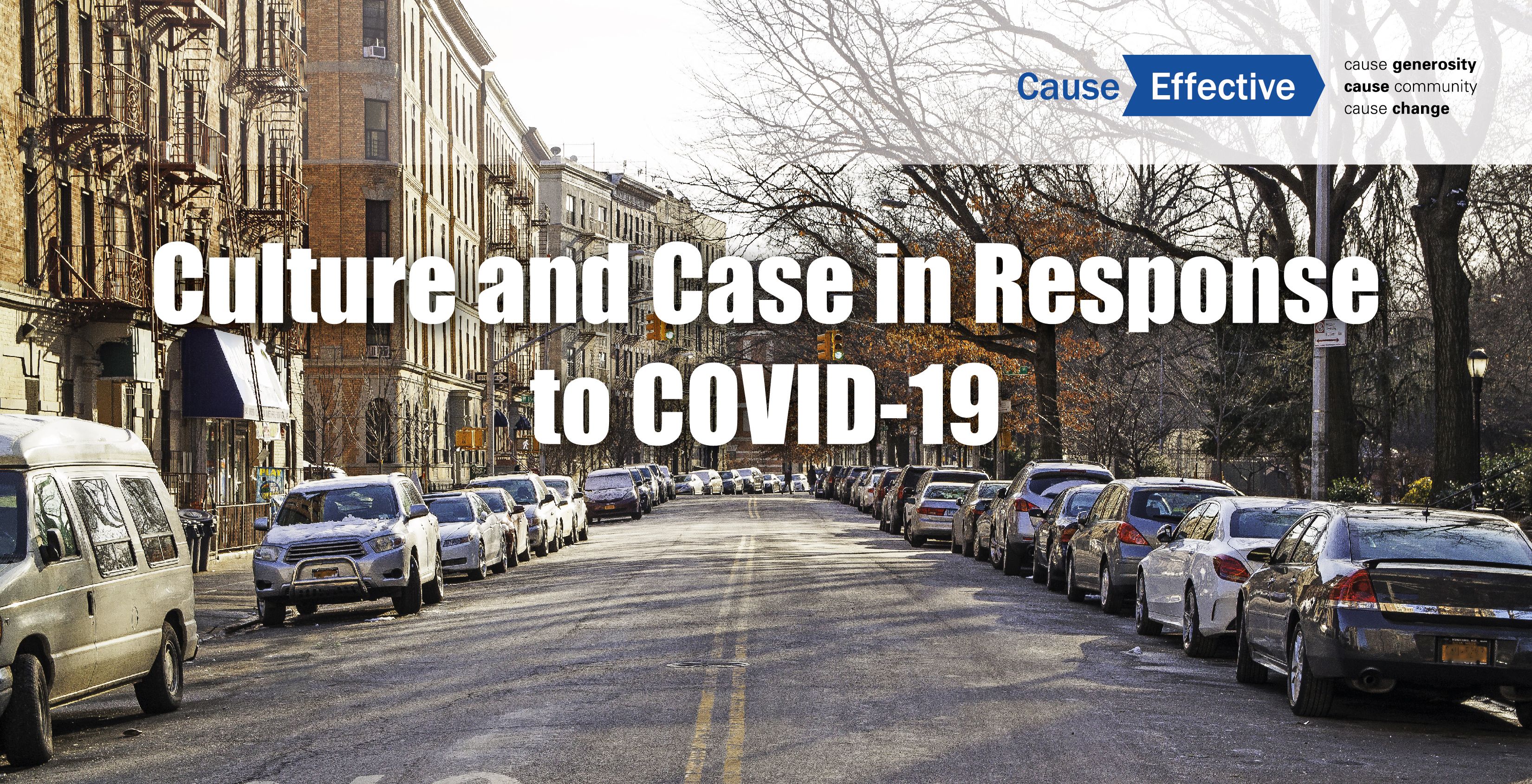 In a time of crisis, it is not surprising that many nonprofit leaders will immediately turn to tactics to save their organization. Asking questions of their team like: "What do we say to our supporters?" "How do we reach major donors?" "How do we stay relevant?"
Here at Cause Effective we are working with our clients on their fundraising plans in the wake of COVID19. We learned after 9/11, the crash of 2008 and Hurricane Sandy that the first steps in any crisis is not to jump into tactics, but to explore whether your organization's internal culture and case for support are clear and inspiring to meet the challenge. Strengthening your culture and case for support not only prepares you to navigate this pandemic, but also positions you for success in the future.
Culture and Nonprofit Staff:
Nonprofit professionals are on the front lines, delivering on your organization's mission, representing values, raising money and executing programs. When an internal culture takes a hit like the effect this global pandemic has taken on nonprofit professionals, it can be visible to the public — including to donors and prospects. Prioritizing your staff's culture is key to team building and executing your organization's fundraising plan.
Meet with your staff and engage in open dialogues to talk about the impact of the pandemic on the organization to strengthen your team.
Ask questions like:
What does our culture mean to you in this moment?
How does our culture help us deliver on our mission in this moment?
How do we sustain it? How do we reimagine it? How do we take it to the next level?
Culture and Your Board of Directors:
Nonprofit boards of directors can be your partner in a crisis and can help to bring in new resources and strengthen your fundraising efforts. This crisis is an opportunity to remind them of why they joined the board of directors and inspire them to connect more deeply with your mission and work. This is when you will see whether your board will step up to meet this moment.
Meet with your board of directors to discuss the challenges you are facing and the role they can play to help the organization raise additional funds.
Discuss topics like:
Whether to launch a mini capital campaign, matching gift campaign and their own additional contributions
Prospecting potential new donors and funding opportunities
In-kind donations and ways they can volunteer
Strengthen Your Case for Support
Your case for support tells internal and external stakeholders why your work still matters in the wake of the pandemic. Thus, it's an opportunity to highlight the needs of the population you serve — and the urgency that serving them has taken on. The essence of your case statement should be reflected in every communication, whether it's directed toward your staff, board, service recipients, donors or the general public. Your case for support should reflect a focused, mission-driven organization that is rising to the challenge.
Taking the Next Step
Cause Effective's veteran team of consultants has helped hundreds of nonprofits to strengthen their culture and case during a crisis. Schedule some time to discuss how we can help position your organization for success today and beyond.