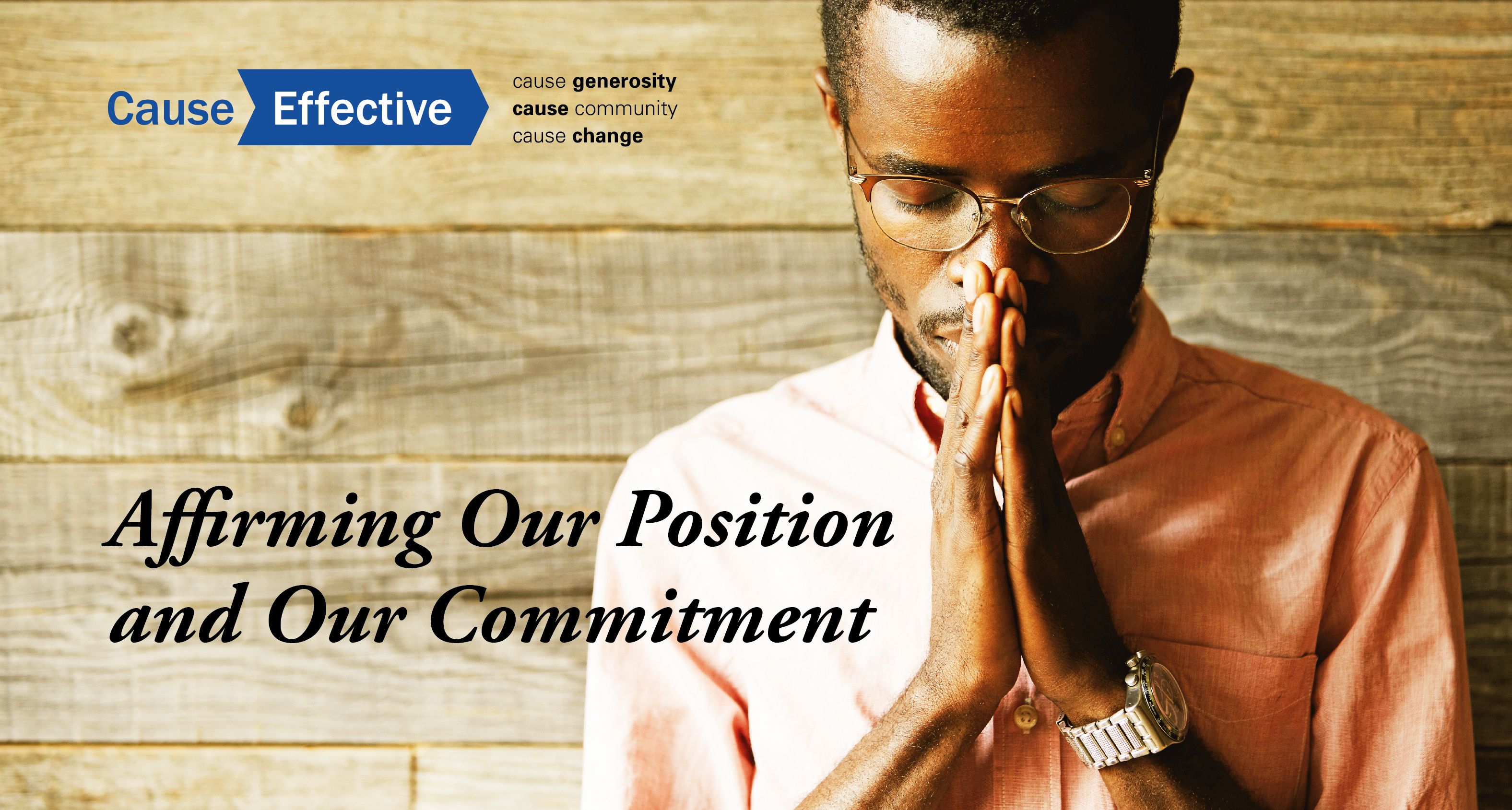 In the week since the senseless murder of George Floyd, we have witnessed a range of intense emotions play out across the country. This painful time has led Cause Effective to re-examine how we can take greater accountability to address the inequalities and injustices that Black people experience, in order to work towards lasting social change and equity.
We recognize that America was built on the legacy of enslavement – on the backs of Black people, and that systemic racism pervades our communities and our institutions. Undeniably, irrefutably, tragically, Black people are profiled by the police, assumed guilty, and experience police brutality and violence at the hands of white supremacists. The narrative is that Black people are criminal, dispensable, and not deserving of justice.
In response, nonprofit organizations have created and implemented numerous strategies and interventions to address the abuse, the inequalities, the denial and deferment of dreams, aspirations and opportunities. But despite the relative progress that has been made, there are still four centuries' worth of systems in place that prevent their 21st century descendants from fully accessing the same opportunities and protections that are afforded, as a matter of course, to white members of society.
No wonder the worldwide outrage we are seeing now.
We at Cause Effective find ourselves asking – where is the humanity? How can we make a real impact for change, through our work?
We believe that our efforts within the nonprofit sector to address the history of systemic racism that prevents Black professionals from advancing into leadership positions is critical work. But we realize, too, how the drive to accumulate wealth and power has created an enormous gap within every corner of our democracy. Wealth as power has contributed to the great class divide and has led America to be an ecosystem that breeds inequality.
To our collective shame, the nonprofit sector has been complicit in elevating wealth as power, no matter the racial and societal consequences.
Cause Effective pledges to double down on our work as advisors, in partnership with nonprofit leaders, to use our skills and abilities to help dismantle the systems of racism and the power dynamics that continue to oppress Black people in our sector.
We intend to:
Model anti-racism within our own organization, in our staffing, governance, policies, strategy, communications, and programmatic execution.
Expand our work around Money Power and Race by partnering with nonprofit development professionals through our Cause Effective Fellows Program: Advancing Leaders of Color in Fundraising and other programming. We will continue to be in collaboration with professionals of color to help strengthen their fundraising and leadership skills as well as counter the overt racism and covert aggressions they experience in the field. Building the pipelines that allow for these professionals to succeed and assume executive roles is critical to the vitality of the nonprofit sector.
Organize convenings that explore how we can and must change the framing and messaging used in philanthropy and fundraising that contribute to perpetuating inequalities and the oppression of Black people. We'll start with a virtual panel event this summer that invites senior nonprofit professionals to discuss ways to deconstruct fundraising and communications strategies through an equity lens.
Partner with organizations whose missions focus on civil rights, social justice, systems-based policy and advocacy, anti-racism, and criminal justice reform. Organizations committed to change and making an impact in New York City, around the country and throughout the world. The work these organizations do is critical and we are proud to contribute to their organizational stability and thereby their success in moving the needle in these crucial areas.
We are in it for the long haul. We will keep doing our part. We invite you to join with us in creating change by donating to these organizations we have had the honor to partner with:
Brownsville Community Justice Center
WE ACT for Environmental Justice
We have seen, first-hand, the impact these organizations are having at a local, national, international level, and find inspiration in their resourcefulness during these traumatic times.
The team at Cause Effective hopes that you will stand with us. We will continue to work in solidarity with our partners to combat racism and its adjacents, no matter how long and difficult the path. We move forward with renewed determination.
Judy  
JUDY LEVINE    
EXECUTIVE DIRECTOR  
CAUSE EFFECTIVE
Zanetta
ZANETTA ADDAMS-PILGRIM
BOARD CHAIR
CAUSE EFFECTIVE