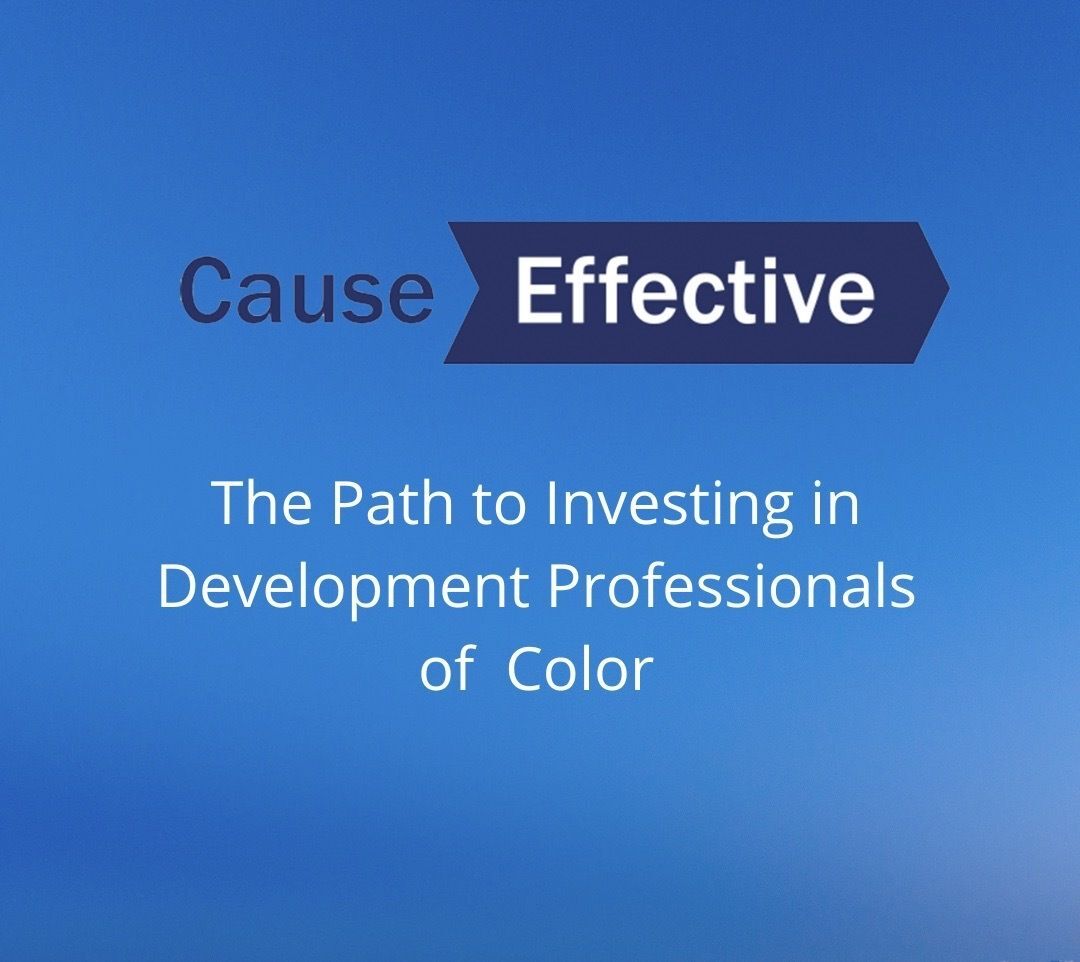 Three years ago, we launched the Cause Effective Fellows Program: Advancing Leaders of Color in Fundraising with the intention of strengthening a diverse pipeline of leaders in the nonprofit sector. As we come to the close of this year's cohort of 16 dynamic development professionals, we have now worked with 41 Fellows at some of the most well-respected social justice and human rights nonprofits in the country. 
Through this program, our team at Cause Effective has grown with our Fellows because the content pushes us to unpack issues in the sector around race and power dynamics that come up in fundraising.  This six-month program incorporates issues of diversity, equity, inclusion, and belonging (DEIB) in fundraising as well as strategies to navigate tensions and build a more just and equitable philanthropic community. It is clear the influence of the program on participants has been profound. One Fellow described this impact on his career path: "I was able to make sure that my power and influence are pushing forth an agenda to serve underserved communities – while providing a clear message about what is and isn't acceptable when the funding base doesn't necessarily look like the community."
At the three-year mark, several observations are rising to the surface:
Organizations have to move beyond focusing on the "D" in DEI, and take on equity, inclusion and belonging. The practices to create an equitable and inclusive environment for development professionals is more than a DEIB policy statement or workshop. DEIB has to become an integral part of nonprofit best practices – incorporating multiple strategies, encouraging open conversations and transparency, while embedding accountability all throughout the year.
While this work has been transformational for its participants, we believe that lasting change within the nonprofit industry around fundraising and DEIB issues requires allyship. To make shifts in the inequitable dynamics that take place around fundraising within organizations means that development professionals of color need support from White leadership, as well as from their White peers within organizations. Certainly, development professionals will always experience challenges within their role because no organization is immune to them. But advancements in DEIB and belonging must be supported by White leaders within the nonprofit sector – and sometimes White leaders need to be willing to take the wheel and lead mission-critical DEIB practices. 
Attention to DEIB in fundraising should also be prioritized by Black-led organizations. Senior development professionals of color who work within organizations that are run by leaders of color experience racism, microaggressions, and tensions around power dynamics as well. These issues run deep, and we have reached a critical moment in the nonprofit sector. The development function has always experienced high turnover. But in the past two years, open positions are at an all-time high. Nonprofit professionals are leaving development roles for new career choices, and they are also carefully evaluating and considering organizations with a much deeper level of analysis before taking an interview. 
It is time to embrace the role of development as instrumental to the overall health of the nonprofit industry. We need development professionals to sustain and grow organizations. They deserve to feel valued, supported, and empowered to thrive and make the impact that organizations would like to achieve.
Cause Effective is committed to being a resource and growth partner in the nonprofit sector to development professionals over the long term. We hope to continue to partner with our funders supporting the Cause Effective Fellows Program as well as the broader Preparing the Next Generation initiative to connect with more development professionals of color throughout the country who share our determination to work towards social justice and equity.