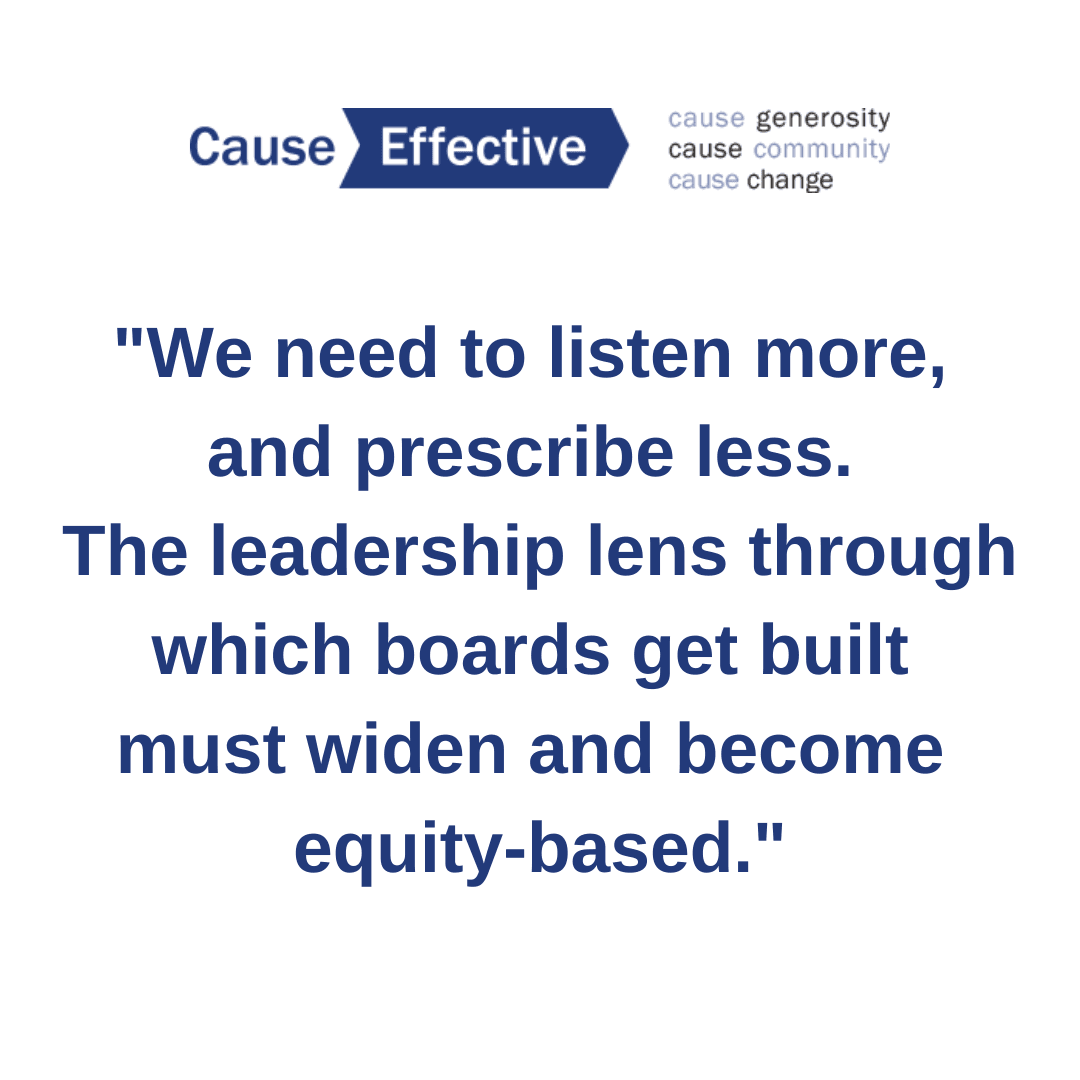 How often do we treat a Board of Directors as a collective entity – grouped by requirements, rules, expectations, and accountability? 

We write up board roles and responsibilities; call for greater board engagement; pass policies requiring 100% board giving at a certain financial commitment.

We develop these strictures as if the board itself is a monolith – as if "setting standards" for an amorphous group will ensure all its members fall into line.

This has been an accepted best practice in nonprofit board governance for… well, decades. 

At Cause Effective, we welcome opportunities to partner with boards looking to evolve beyond this traditional approach. In today's challenging times, as we work to achieve social justice and equity, nonprofits must carefully consider how equity concerns play out in their governance model.

Board members are individuals. Their particular backstories, passions, capacities, and points of view all influence how they come to the table. 

As board composition broadens beyond "like-recruits-like" sourcing, we must re-evaluate assumptions about nonprofit governance based on "Everybody has to" and "It is expected that" and "All board members must."

We need to listen more, and prescribe less. The leadership lens through which boards get built must widen and become equity-based.

Many board essentially sit down over the summer. It's difficult to get a critical mass in attendance because people's vacation schedules vary so widely that no single date works for a full board gathering. And in general, people focus more on having fun and less on the minutia of board business. 

What's more, after two previous summers of constricted circumstances, just about everyone is out and about and less nose-to-the-grindstone focused.

That doesn't mean that board members need to be completely MIA – if you approach them one at a time. Summer is great for individual discussions, since it's easier to meet in person (outdoors) and people are more relaxed when you connect with them on their turf. 

Summer is the time for relaxed conversations – part get-to-know-you, part testing ground for roles you hope board members may willingly grow into over time. It's a time to step back from treating the board as a universal entity, an opportunity to hear individual board members' circumstances and adjust overall expectations to what each board member's most valuable contribution in service can add to the organization.

This approach certainly requires more flexibility and adaptability than drafting a "one and done" set of standards. But getting to a cohesive board of difference – a board with different points of view, different backgrounds, and different life circumstances – requires that organizations make a conscious choice to establish board policies that institute a variety of ways to serve – ideally as many ways as there are seats at the table. 

When a board knows that each member is pitching in with commitment and respect – though what that looks like varies from person to person – that board will be more responsive, more welcoming, and more productive (not to mention having greater retention).

Let the conversation of summer - over mint juleps and lemonade – help you build a board whose culture values everyone in their own unique way.