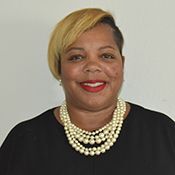 Nicole Houston Johnson, Chief Partnerships and Opportunities Officer, The Rensselaerville Institute
Nicole Houston Johnson, Ed.D is a results-focused instructional leader with experience in leadership development, strategic analysis and planning, and effective use of teams to eliminate achievement gaps. She has been affiliated with the Rensselaerville Institute since 2006 as a participating principal in the School Turnaround program. In 2008, Dr. Johnson became a Specialist - leading and supporting projects focused on leadership and instructional support to underperforming schools, program evaluation of executive leadership academies for Hawaii and Ohio Departments of Education and preparing at-risk children to be college and career ready.
She currently serves as the Chief Partnerships and Opportunities Officer. Prior to joining the Rensselaerville Institute, Dr. Johnson was a secondary principal where she implemented innovative instructional strategies and methodologies which resulted in "Recognized Status" from the Texas Education Agency. This recognition was the second highest achievement rating in the state of Texas. She also received the state Gold Performance Award for 51% of the students achieving Commended in Reading on the Texas Assessment of Knowledge and Skills; while also, reducing the historical achievement gaps in Mathematics from as wide as 30 points to less than 9 points. Before entering administration, Nicole was a middle and high school mathematics teacher.
Dr. Johnson received her B.B.A in Actuarial Science from Howard University and earned her M. Ed in Education Administration, Ed.D. in Educational Leadership at Texas Christian University. In 2014, she became qualified to serve as a national inspector of teacher preparation programs. Last spring, she completed the Executive Women's Leadership Program at Stanford University Graduate School of Business. She was bestowed the Phenomenal Citizen Award for her work in education by the National Women of Achievement. Dr. Johnson has been honored as an Exceptional Educator and Community Service Leader. Her desire to change education globally led her to study Educational and Cultural Awareness at the University of Ghana in Accra and provide curriculum support to Kachere Juvenile Detention Center in Malawi, Africa. She is a member of Delta Sigma Theta Sorority Inc. and serves on both local and national boards. Dr. Johnson resides in Texas with her devoted husband, 3 children and 1 grandson.
Email: nhjohnson13@gmail.com