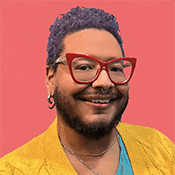 Santana Morena, Development Director, Funders for Reproductive Equity
Santana Moreno, CFRE (They/Them/Theirs) is a philanthropic organizer dedicated to reclaiming and redirecting reparative-aligned resources toward progressive organizations that serve and uplift communities living at the margins of society. Throughout their career, Santana has redirected over $40M in resources from philanthropy toward progressive organizations.
Based out of Baltimore, MD, Santana is a Certified Fundraising Executive® currently holding a senior leadership role as Development Director at Funders for Reproductive Equity, an organization that works to strengthen the impact and effectiveness of philanthropy in supporting reproductive health, rights, and justice in the United States and around the globe.
Previously, Santana was Senior Manager of Philanthropic Partnerships at Jobs With Justice (JWJ), an economic justice organization that combats inequality by expanding organizing and collective bargaining rights for workers, in particular Black and brown workers in low-wage jobs. Prior to JWJ, Santana worked at the National Latina Institute for Reproductive Justice, the only national reproductive justice organization dedicated to advocating for the rights of Latinxs at the intersections of reproductive, immigrant, and economic justice. 
Santana believes deeply in advancing their theory of change for philanthropic organizing and has previously spoken at events for the Association of Fundraising Professionals, Cause Effective, Nonprofit Lowdown Podcast, and at Nonprofit New York's 2021 Best Nonprofit Conference in a session called "Disruptive Fundraising". As a growing thought leader in this field, the Association of Fundraising Professionals published their article, "I'm Not Afraid to Say it – Foundations Need to Do Better," which has since been reshared by the National Committee for Responsive Philanthropy and other philanthropic media channels.
Outside of their career, Santana is an artist/artivist, classical clarinetist, skateboarder, and proud dog parent to Ponyo.
Email: santana@wearefre.org