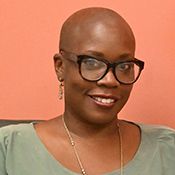 Genevive Walker, Connecticut Center for Arts and Technology    

Genevive Walker was raised in New Haven, Connecticut.  She attended public school and subsequently attended and graduated with cum laude distinction from Temple University in Philadelphia, Pennsylvania where she earned a bachelor's degree in Urban Studies. After a few relocations in her young adult life, she received her Master of Arts in Elementary Education at Teachers College, Columbia University in the City of New York.  Through the years and during her time at Columbia University, Genevive nurtured her passion for education and developing youth through her service in afterschool programs, summer youth development programs, and youth ministry programs in Harlem, New York, Bridgeport, and New Haven, Connecticut.  Her deepest interests have been supporting the voices of children and young adults to bring about empowerment and
readiness for adulthood. Genevive is a veteran 5th grade teacher, having served in both the New Haven and Hamden Public school districts.  She is currently the CEO & President at the Connecticut Center for Arts in Technology in New Haven, CT, where she previously served as Director of Programs and COO.  During her tenure as Director of Programs, she designed and oversaw the implementation of the Adult Career Training programs, and Youth Arts After School and Summer programs at ConnCAT. She has demonstrated her deep passion for education, literacy, and youth through her previous involvement as board members on the Achievement First Elm City College Preparatory Executive Board, Literacy Coalition of Greater New Haven Executive Board, Cold Spring School Board of Trustees, and the Youth 2 Youth Network Board. She currently serves on the ConnCORP Board of Directors. Her work with the Governor's Workforce Council and New Haven Equitable Entrepreneurial Ecosystem Council, and leadership role with Social Venture Partners New Haven are a representation of her commitment to fair and equitable work opportunities for people of color. Her hope for strong community is further demonstrated by her participation as a facilitator for the Community Leadership Program.  Genevive's primary interest is taking care of and loving her three children and husband.
 
Email: gwalker@conncat.org