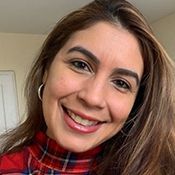 Claudia Ramirez, Assistant Director, Future Now at Bronx Community College
Claudia Ramirez is a CUNY graduate. First, she graduated from LaGuardia Community College with an Associate Degree in Mental Health; she then transferred to Lehman College, where she graduated with a bachelor's degree in Social Work.
As the Assistant Director of the Future Now Program at Bronx Community College, Ms. Ramirez has helped to build a nationally recognized model of a high performing HSE and college transition program serving low income and justice involved youth and effective peer mentoring and leadership development programs. In 2011, Future Now's college focused peer mentoring program, IMPACT, was chosen for replication as part of the NYC Mayor's Young Men's Initiative.
Ms. Ramirez's role as an Assistant Director and as a professional that oversees the HSE component in the program has contributed tremendously to the program's success rate. Being in the helping profession for over ten years has helped her to unleash her great qualities, skills and talents that now she uses to empower her community by giving her students an opportunity to change their lives through out education. She always says that her and her team are in the business of changing lives.
It is very rewarding for her to see all the students that throughout her career she has been able to assist. Just to give an example, the FN program was able to graduate over 200 students with their HSE diploma during the pandemic. This is something that she has been able to do with the support of her team. It is wonderful to work with people that have the same commitment and genuine passion as you do. This translates in the numerous lives that they are able to touch and change. 
Email: Claudia.Ramirez@bcc.cuny.edu