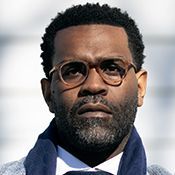 Dwayne Brown, Deputy Director, St. Nicks Alliance
Dwayne Brown translates vision into reality through collaboration, innovation, strategic planning, continuous reflection, and stellar youth development instincts.  Since joining St Nicks Alliance in December 2014, the Youth & Education division has doubled in size and scope, increasing the number of youth served from 1,200 to more than 3,000 and the annual budget from 6 million to 13 million. As the Deputy Director of Children & Youth, Dwayne is responsible for the operational oversight for a growing portfolio of comprehensive services supporting youth between the ages of 5-24 and their families. Over the last three years, Dwayne helped grow the division and created an infrastructure to support the network of 24 school-based and community-based centers, afterschool centers, summer camps, community schools, Beacons and Cornerstone centers, as well as 37 full-time staff members and over 200 part-time staff members.
Dwayne intuitively sees threads of opportunity within disperate staff and brings people together to develop and implement relevant culturally responsive policies and activities. Under his leadership, St Nicks Alliance has expanded its footprint to communities outside of Williamsburg and Greenpoint and into Bedford–Stuyvesant and Brownsville communities. Dwayne led efforts to establish agency-wide events such as an Annual Youth Summit, Summer Olympics, Ski Excursion, and College Tours.   To facilitate youth empowerment by providing stimulating experiences that inspire self-awareness, positive identity development, self-actualization, and life goal achievement Dwayne also started the Leadership Retreat Weekend, attended by 150 students each year. During the height of the COVID 19 pandemic, Dwayne mobilized and repurposed the youth workforce to combat remote school attendance, mental health, and food insecurity by implementing direct action initiatives including: attendance check ins, wellness calls, and Grab N Go events. Collectively these efforts impacted the lives of over 2000 youth and families in North Brooklyn.
Before joining St Nicks, Dwayne worked with and invested in the people of Harlem and the Bronx through his roles with Bronx Community College, Phipps Neighborhoods, and New York City Mission Society.  During his career he directed school and community-based anti-poverty initiatives including the CUNY Black Male Initiative, Summer Youth Employment Program, Beacon, Cornerstone, SONYC, a federally funded evidence-based Adolescent Pregnancy Prevention Program, as well as several other state and city funded programs empowering thousands of adolescents and young adults annually.
Dwayne began his career in human services as an in-home case manager for a childcare agency in Pittsburgh, PA.  Dwayne holds a BA in Political Science from Duquesne University, an MPA with a concentration on Non Profit Management from Baruch College and earned a Post Master's Certificate in Executive Leadership in the Not-for-Profit Sector from New York University. Currently, Dwayne is enrolled in the Master of Education in the Education Policy and Leadership program at American University's School of Education. Dwayne is a proud member of Alpha Phi Alpha Fraternity, Inc. and serves on the Board of Directors of the Order of the Feather Incorporated and with his church.  Outside of work Dwayne enjoys spending time with his wife and their two boys; working on house projects with his wife, being a soccer dad to his teenage son, and creating stop motion videos with his youngest son.
Email: dbrown@stnicksalliance.org