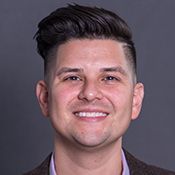 Steven Toledo, Chief Operating Officer at Power of Two

Steven serves as the Chief Operating Officer at Power of Two, and brings over fifteen years of experience forwarding social justice initiatives on multiple fronts, including sexual health, immigrant rights, LGBTQ rights and education reform. As a queer Latinx born and raised in NYC, Steven believes deeply in his responsibility towards serving marginalized communities, and understands that the importance of addressing social determinants of inequity to produce a more just world.
Prior to his current role, Steven served as Deputy Director of the National Latina Institute for Reproductive Health, creating the conditions for the organization to expand from an annual budget of $1.8M to $6.2M, and a team of 18 to 42 members. Earlier, Steven worked as Project Director at the Gay, Lesbian and Straight Education Network to promote safe and affirming school environments for all students, particularly LGBT students of color. He has also consulted at the NYC Department of Education to support the professional development of educators around using assessment data to improve instructional practice. And as an Education Pioneer Fellow, he developed a nutritional program to address food equity for charter school students in Washington Heights (NYC).
Early in his career, Steven sought ground-level experiences, working as an HIV/AIDS prevention educator for adolescents, case manager for recently arrived gay and bisexual Latino immigrants, and volunteer Associate Director at the Brazilian Rainbow Group.  He has also conducted qualitative research to understand the experiences of immigrants in the construction industry in Philadelphia and led another research project to develop and pilot a survey tool in Angola to support equitable pension benefits for retirees of the United Methodist Church.
Steven holds a Master's in Public Administration from the Robert F. Wagner School of Public Service at New York University and Bachelor's degree in Latin American Studies and Economics from Wesleyan University.
Email: stevent@powerof2.nyc