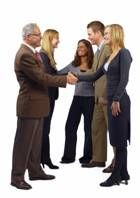 It takes time – coaching board members instead of doing it yourself.
Explaining. Soliciting their opinion. Talking it over.
Instead of just taking it on.
The payoff – board members who understand the principles of board management, who've internalized the key strategic issues of the organization, who talk to each other without everything coming through the ED – takes time. Time invested in process, dialogue, checking in.
Enough time that it's all too easy to give up and go back to getting it done yourself.
But that would be a mistake.
Because the payoff, when it comes, is big. Finally, you have 5 or 10 people you can think out loud with – and who can both push you into uncharted territory and pull you back from precipices big and small.
Thought partners. Whether it's in a defined territory like increasing the organization's donor visibility, or wide-open terrain like going regional or even national.
There's a direct line between having board members able to engage in that level of dialogue, and the backbreaking work of coaching, reinforcing, provoking thought and supplying the background needed so that board members who aren't specialists in your program area (nor in fundraising or nonprofit finance) can provide meaningful input and support.
Every board member has a role in helping the organization flourish. That's the gold standard – and it takes individual attention to drawing board members out and supporting them in their job to get the most out of them.
The good news is…they enjoy this approach better as well, in addition to it being more productive for the organization.