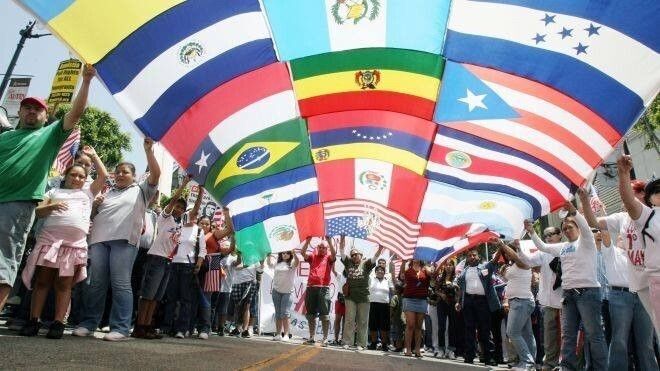 Mi Gente! Today we celebrate National Hispanic Heritage Month, spanning from September 15 to October 15, as an annual celebration that holds profound significance beyond its vibrant festivities. This observance is a time to honor the cultural, historical, and societal contributions of Hispanic and Latino communities in the United States and around the world. Beyond the colorful parades and joyful events, this month serves as a catalyst for social justice and philanthropy. By acknowledging the past, addressing disparities, and uplifting the voices of Hispanics and Latinos, this celebration fosters a more equitable society for all.
National Hispanic Heritage Month underscores the importance of representation and recognition. It acknowledges the enduring contributions of Hispanic and Latino individuals across various domains, including the arts, sciences, politics, and community leadership.
Notable Contributions from Latino Leaders
Dolores Huerta: An iconic civil rights activist and labor leader, Dolores Huerta co-founded the United Farm Workers union, advocating for fair wages, safe working conditions, and labor rights for agricultural workers, many of whom were Latinos. Her efforts transformed the lives of countless individuals and continue to resonate in the fight for workers' rights.
"Every moment is an organizing opportunity, every person a potential activist, every minute a chance to change the world." — Dolores Huerta
Ricky Martin: Renowned as the King of Latin Music around the world, Ricky Martin is also a philanthropist and activist, who has made significant contributions to the Latino and LGBTQ communities. Through his charitable foundation Fundación Ricky Martin he advocates for children's well-being in critical areas such as social justice, education, and health, with a primary focus on eliminating child trafficking through education via the People for Children project. His dedication extends beyond advocacy, as his foundation engages in community social action programs and disaster relief efforts such as assisting Puerto Rico's recovery after Hurricane Maria and aiding Syrian refugees.
Jorge Ramos: As a prominent journalist, Jorge Ramos has amplified the voices of Latino communities through his work in both English and Spanish media. By asking tough questions and addressing critical issues, he has become a vital advocate for social justice and equal representation in the media landscape. Part of Ramos' legacy in media is that his presence has paved the way for an entirely new generation of Latino national and global on-air anchors and television journalists appearing in broadcast and cable news. His daughter, Paola Ramos, has followed in his footsteps into the world of broadcast and print journalism.
Sonia Sotomayor: The first Latina Supreme Court Justice, Sonia Sotomayor, exemplifies the power of representation. Her achievements have not only broken barriers but also inspired generations of young Latinos to pursue their dreams and overcome obstacles. Her commitment to justice and equity continues to impact the lives of Americans from all walks of life.
"In every position that I've been in, there have been naysayers who don't believe I'm qualified or who don't believe I can do the work. And I feel a special responsibility to prove them wrong."— Sonia Sotomayor
Yet, the month also sheds light on the disparities and challenges these communities face, particularly in terms of socioeconomic status. According to data from the U.S. Census Bureau, Hispanics and Latinos make up 19.1 percent of the U.S. population making it the nation's largest racial or ethnic minority.
Research from Hispanics in Philanthropy and Candid's LATINXFunders project reveal that only 1.3% of all philanthropic dollars go to the Hispanic and Latino communities in the U.S. and Latin America and has been stagnant for years compared to other racial or ethnic groups despite the growing population.
Hispanic and Latinos make up 18 percent of the U.S. labor force with the median household income in 2021 being $56,113, compared to $76,057 for White households. This wage gap represents not just a monetary difference, but a reflection of systemic inequalities that persist in the workforce and directly impact philanthropy by Hispanic households and the ability to contribute meaningfully to societal causes. Even in the face of economic challenges, the Latino community still showcases remarkable generosity in philanthropy. Research from the Lilly Family School of Philanthropy found that 13.9% of Hispanic households donated to social and racial justice causes in 2020, compared with 12.6% of white non-Hispanic households. This data underscores the deep-seated value of giving back to one's community, even in the midst of financial difficulties. The Latino community's growing philanthropic wherewithal demonstrates a commitment to uplifting and supporting others.
National Hispanic Heritage Month encourages community engagement, philanthropy, and collaboration. The celebration serves as a platform for embracing the rich, cultural heritage and history of these communities and opportunities to have open discussions about the challenges faced by Hispanic and Latino communities, such as immigration reform, education access, and affordable healthcare. These conversations can lead to increased awareness and empathy, fostering an environment where social justice issues are addressed collectively.
In honoring National Hispanic Heritage Month, we celebrate more than just a cultural legacy; we acknowledge the resilience, achievements, and contributions of Hispanic and Latino individuals who have shaped America's diverse tapestry. The month's impact goes beyond its designated timeframe, serving as a reminder of the ongoing work required to create an equitable society. Through representation, philanthropy, and recognition of influential leaders, this celebration propels us toward a future where all voices are heard, valued, and uplifted.
Photo: J. Emilio Flores